With the holiday season upon us it is time to pay attention to quality.
             NOW ITS TIME TO FOCUS ON THINGS OF THE HIGHEST QUALITY.
Black Friday...Done.  Small Business Saturday...Done.  Cyber Monday…. Done. The bombardment of 80 percent off, buy one get one free, buy one get three free...Done.
At Seattle E-Bike, we think this is a good time to focus on our very finest E-Bikes.  Yes, they can make fabulous Christmas gifts. But when the trinkets are broken, and the impulse buys are put away, these magnificent machines will be used and appreciated, not only until next Black Friday, but for many years to come.  
Today we have selected 3 of our very finest, each quite different in application.  Each is the gold standard for E-Bikes of their specific application. Please consider the best for this holiday season:
                                                              THE STROMER ST-5
The Stromer ST5  is our most expensive E-Bike.  It is the top of the Stromer line, known for their Swiss precision.  Stromer is very, very serious about how they build their bikes.  
The ST5 is the ultimate commuter E-Bike, immensely powerful, solid and capable, with superb handling that transmits confidence with every mile.  It can be thought as the Mercedes S-Class AMG of E-Bikes. And, in each of Seattle's twice daily 4-hour rush hours, it will easily beat the Benz from Sodo to Greenlake.  
                                                   THE BESV TRS-1     
Next up, a champion.  The BESV TRS-1 Carbon Fiber.  Perhaps the most prestigious electric mountain bike race in the U.S is the Sea Otter Classic each April in Monterrey California.  In 2018, factory team rider Ashton Smith rode the TRS-1 to a championship in the open E-MTB class.
This bike is stunning.  Beautiful lines and paint job, it includes the Shimano Steps 8000 center drive motor, Shimano's most powerful, all Shimano XT components, and Fox Shocks.  It has an incredible gearing system that allows it to climb hills easily up to the maximum that is humanly safe, 30%, and more for the reckless. We think it is also the lightest mountain bike around.  BESV claims 43 pounds, but Ashton Smith got 41.8 when he weighed it. It is also perfectly balanced. A tremendously capable mountain bike.
 THE IGO CARBON GCV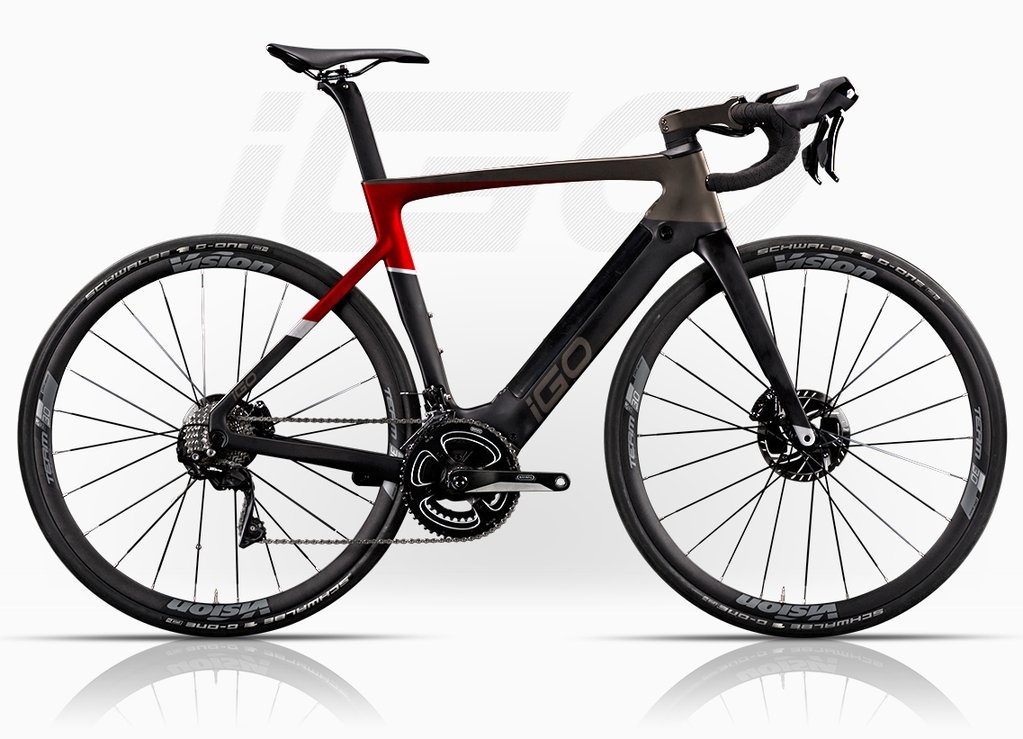 While the BESV is the lightest E-Bike in its class, the iGO Carbon GCV is only the second lightest in the world, at 27 pounds 8 ounces. It costs $5349.   For $1016 per ounce saved, you can buy a $16,000 Specialized Turbo Levo. You will save 10 ounces, but you will lose: 1; 36 percent of your power, and, 2:  Enough money to buy a Stromer ST5 or a round the world airline ticket.  
The Stromer is beautiful, the BESV is beautiful, the GCV is stunning.  Check it out. It is so streamlined, it is hard to believe its an E-Bike.    It looks like the road bike it is. Just "E" If you feel the need to fake it, you could, until you slam up the hills with 3X the power of a Tour de France racer.  Its drop dead beautiful, handmade of Carbon Fiber and Montreal Canada, and goes like a scalded cat.  
You can probably find one of these bikes locally.  But in the entire country, only Seattle E-Bike offers these 3 superb machines. 
You can find out more about these bikes at https://www.electricbikeseattle.com/