Posted on
By Brian Nordwall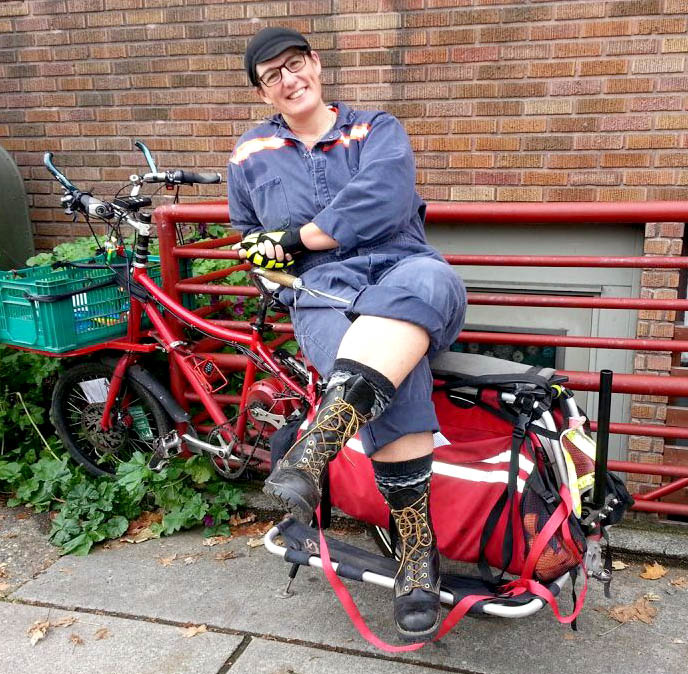 Morgan is the Founder of Familybike Seattle.


A family bike is a bike ridden by an adult, but with room for one or two little folks to tag along.


We've been selling them for six years. But wait, now we have a pro. Morgan Scherer has joined our staff as the Family and Cargo Bike Specialist.


Morgan founded FamilyBike Seattle in 2007 and has acted as its Executive Director for the past twelve years. She is responsible for helping thousands of Seattle families learn about these wonderful bikes and the numerous accessories available for them. They save numerous family car trips and can even avoid the need to have a car for those who are really committed to sustainable transportation.


Morgan will be helping us add to our Family Bike offerings. We're greatly expanding our Yuba products, adding the TernGSD and HSD, and introducing the brand new Blix Packa.  You will hear more about these models over the coming weeks. We are also increasing our variety of bike trailers, for both cargo and even more children.


Seattle has legendary hills, which is one reason why we've sold thousands of E-Bikes in the past seven years. But the benefit and pleasure of E-Power are magnified considerably when you're carrying children, groceries, or BOTH.

Morgan will be at Seattle E-Bike on Fridays and will also continue to be available by appointment. Seattle E-Bike offers free test rides to prospective buyers. We have several test courses mapped out in our neighborhood which include (your choice) very steep hills, wide open flats, and awful potholes. Morgan will be happy to consult with you and help you choose which ones you should try out.

For an appointment, send her an email at [email protected] or just stop by the shop on Fridays starting July 26.
We carry bike accessories from all the top brands. ABUS, BROOKS, CONTINENTAL, CRANK BROTHERS, KASK, KINEKT, KNOG, MAXXIS, MONKEYLECTRIC, SELLE ROYAL, SERFAS, SHIMANO, THULE, and more. Come try out our electric bikes, boards, and scooters at Seattle E-Bike at 220 South Jackson Street in Seattle. We're open Tues - Fri 10:30AM - 7PM, Sat 11AM - 6PM, Sunday & Mon closed. tel 206-344-8000.