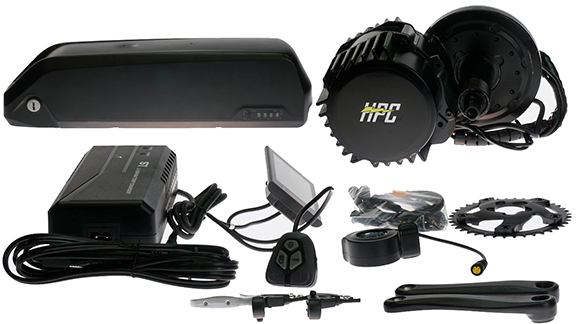 Want to electrify your bicycle? Seattle E-Bike techs are happy to help. We have a team of bike experts on staff. Contact Jasiah with detailed images of your bike to see if your bike can be converted [email protected]
Seattle E-Bike Mid-Drive Conversion Kits are available in 1200w - 2000w configurations.
Performance Description:
A well-engineered, quiet, and compact mid-drive electric bike kit that can mount with ease on most existing bicycles. It features a 1200 watt rated motor. This translates into extreme hill climbing ability of grades up to 30% or more. All kits ship with a 20mph speed limit. The speed limit of the system can be adjusted in the control panel from 10mph up to 32mph. (Current regulations limit the top speed an e-bike can travel to 28 miles per hour.)
Below is some info for the two most popular Bafang-style mid-drive motor kits that we install regularly from Hi-Power Cycles https://www.hi-powercycles.com/collections/e-bike-conversion-kits. The kits are complete with everything we'd need; the motor, battery, chain ring, crank arms, brake levers with cutoffs, throttle, control buttons and display. We also install a motor stabilizer bar that we've found keeps the motor locked into position far better that the standard install procedure and a shift sensor that saves some wear and tear on the drive-train, we include these parts in our quotes.  Each kit can be upgraded form a 12.5ah battery at it's respective voltage, to 15ah to increase range for an additional $300.  Or there are also Elite battery upgrades that would get you up to 75 miles per charge for an additional $1000, or up to 100 miles per charge for and additional $2000, these would increase the labor rate as the battery would require special mounting attention.  Install labor for the standard systems usually comes to around $400.
1200W- 48V 12.5ah NMC battery system, 28 mph top speed, 30+ miles maximum range. ~110 Lb-Ft of torque at tire $2000 + Labor
1500W - 52V, 21ah NMC Battery System, 32+ mph top speed, 32+ miles maximum range. ~130 Lb-Ft of torque at tire $2499 + Labor
Keep in mind, mid-drive motors can put out a significant amount of power and torque. A 500 watt mid-drive motor can be like a 1000 watt hub drive motor because of the positioning and gearing! 
Call us for more information and pricing at 206-344-8000 or email [email protected]