Press
A visit to our old store on First Avenue
A purpose/mission message from our CEO and Founder
K5 Evening Magazine Interview Sammy the Sasquatch
Seattle E-Bike and Sammy the Sasquatch are taking the Electric Bike Industry by storm! 
Want to learn more about what Seattle E-Bike is up to? Click the link above to see a Live Interview with Seattle Bike Show that was March 5-6th 2016 at the Seahawk's Stadium!
(To view the video click the link above or scroll to the bottom of this page )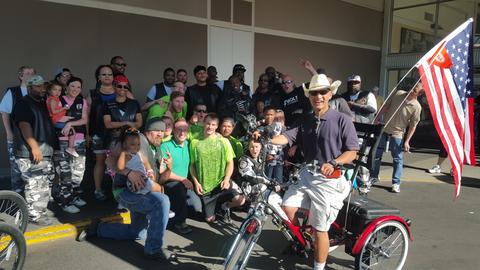 BREMERTON, Wash. -- A local bike shop is on a mission to put the bells and
whistles on a souped-up ride for a very special customer.
Pablo Lozano shared his story  on Q13 News Tuesday night -- someone stole his trike outside his job at the Fred Meyer store in Bremerton. It's a ride he desperately needs, because Pablo is disabled and has been since suffering a stroke and meningitis as a child. Many in Bremerton are use to seeing Pablo riding to and from his job on his trike. But a thief or thieves took his mode of transportation away from him.
Seattle E-Bike saw the story on Q13 News and volunteered to build Pablo a new and improved trike -- and they are getting ready for the big delivery Saturday.
The tricked-out trike even got the thumbs-up from talk show host Conan O'Brien, who happened to be in Seattle and stopped by the shop Friday, surprising the E-Bike team and taking photos in support of Pablo and his new ride.
The trike is customized just for Pablo -- including special features like left-hand controls, since he can't use his right hand and a special security system.
Meanwhile, the Bremerton community is coming together to look for Pablo's original, stolen bike.  On Friday, a viewer sent us a photo of a bike that looks like Pablo's outside of a Target store in Silverdale. Investigators are looking into it.


(LARRY STEAGALL/KITSAP SUN Pablo Lozano is cheered by members of
Seattle E-Bike as he rides his new three-wheel bike built by them on S
aturday, May 7, 2016. He was riding it home for the first time.) 


(Pablo Lozano gets a send off from his uncle Rodrigo Rivera as he gets set
to ride his new bike home from the East Bremerton Fred Meyer on
Saturday, May 7, 2016. LARRY STEAGALL / KITSAP SUN)


(Pablo Lozano is cheered by friends and family at the East Bremerton Fred Meyer after sitting on his new bike on Saturday, May 7, 2016. LARRY STEAGALL / KITSAP SUN)


(Pablo Lozano hugs Chelsi Pennington of Seattle E-Bike after she presented his
new bike to him at the East Bremerton Fred Meyer on Saturday, May 7, 2016.
LARRY STEAGALL / KITSAP SUN)


(Pablo Lozano is greeted by Bremerton Mayor Patty Lent at the East Bremerton Fred Meyer on Saturday, May 7, 2016. LARRY STEAGALL / KITSAP SUN)
EAST BREMERTON — Pablo got a new bike and a whole lot of love.
Supporters responded swiftly after disabled Fred Meyer employee Pablo Lozano's custom-built, three-wheeled bicycle was stolen while he was at work Monday.
Saturday afternoon, Seattle E-Bike delivered a $4,600 electric "trike" to the store, escorted by Kitsap Ruff Ryders motorcycles. Pablo Lozano, wearing a straw cowboy hat and sunglasses, was all smiles, as always.
The 31-year-old had relied on his bike to ride the mile back and forth to Freddies, where he's worked 11 years as courtesy clerk. His disability has prevented him from getting a driver's license.
"Somebody ripped off a handicapped kid's bike," store manager Axel Strakeljahn said. "How low can you get?"
E-Bike's Chelsi Pennington pedaled the new cherry-red bike, blaring music and trailing a large American flag, into the covered entrance. Mechanic Ben Leddusire reviewed all the gizmos. Headlight. Taillight. Turn signals. Lighted spokes. Squealing alarm. Cellphone dock. Blue tooth. Six hundred watt sound system. Insulated case.
Lozano, a man of few words, hugged and thanked them.
An impromptu crowd of about 40 burst into a raucous chant. PA-BLO! PA-BLO! PA-BLO!
Pablo was nearly in tears Monday when his mother Fe Lozano arrived home and the bike wasn't in front of the house.
"It was so hard that somebody could do such a thing," she said, holding a bouquet of roses. "He works so hard and tries to be independent."
She was buoyed by the response.
"I'm so glad so many people support my son," she said. "I'm glad so many people love him other than his family."
The words were barely out of her mouth when longtime Freddies customer Velma Smith approached.
"I just love your son," she said. "You can come in here in a bad mood and he always has a beautiful smile. He's a joy."
Mike Rowland of Bremerton saw the stolen bike report on the Bremerton Crime Watch Facebook page. E-Bike's Leddusire watched it on TV news.
Rowland started calling around about a replacement. A cycle shop quoted him $600 for a new bike. He asked his old Ruff Ryders riding mates if they'd contribute.
They said, "You know what, we're going to buy the whole bike," Rowland said.
Then the E-Bike folks chimed in. Leddusire texted senior vice president
Jeremy Cooper. "Oh my God, it's a horrible story," he texted.
The two began calling everybody in the company, and Rowland.
"(Cooper) called me in tears, 'We want to build him the bike,'" Rowland said. "That's even better."
The motorcycle guys still wanted to help. They decided to gather at the old Kmart parking lot and escort the bike-carrying van.
"It's disappointing when people think they have to take things that don't belong to them, but it's a great reflection on the community with the outpouring of support Pablo has received," Strakeljahn said.