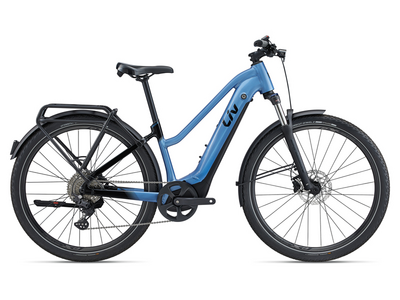 From lumpy, bumpy gravel tracks to smooth urban roads —and everything in between — the amiti e+ is built to optimize your comfort, fitness, and confidence. just bring along your adventurous spirit for the ride. key performance factors Versatile and capable The versatile design and technology of the Amiti E+ make every adventure possible. From a cruisy ride into town for a coffee to smoothly trekking along gravel trails for the day – this reliable E-bike takes you wherever you want to go, in style and comfort. Adventure-ready With a maximum range of 180km and 75Nm of torque, the Amiti E+ delivers distance, power, and hours of outdoor, smile-inducing fun. The Mounting Is Key HD rack provides 30kg of luggage-carrying capability, and the sleek fender protects against dirt, dust, and rain. Next-gen technology The color control unit shows all your ride data at a glance. And you can pair it with the RideControl App for optional phone notifications. It also features a convenient USB port to keep your devices charged. This next-gen technology and sleek internal cable routing result in a premium, head-turning E-bike.
TAKE CONTROL OF YOUR LIFESTYLE AND REDISCOVER YOUR SENSE OF ADVENTURE WITH RELIABLE COMFORT THAT TAKES YOU THROUGH THE CITY AND BEYOND. Versatility Access to new roads and experiences is easily within reach thanks to the 180-215 km* furthest range of the reliable EnergyPak Smart battery. The SyncDrive Sport motor, co-developed with Yamaha, delivers 70Nm of torque and has six speed control settings ranging from 75-350% pedal assistance. Powerful disc brakes make variable terrain, from hilly city commutes to windy country roads a non-issue. *Variations may depend on several circumstances including weight, elevation, terrain, acceleration etc. Integrated Design The reliable and easy-to-access EnergyPak Smart is beautifully integrated into a lightweight and durable ALUXX SL-Grade aluminum frame, designed and tuned for women using Liv's 3F Design Philosophy for a bike that zips along on longer adventures. Integrated dropouts make adding accessories easy, and paired with fenders, rack, and an integrated light on the head tube, Amiti E+ is ready for comfortable commuting or awe-inspiring point-to-point treks. Comfort Smart Assist Technology smooths out bumps, and the ergonomic RideControl Ergo series handlebar controls make adjusting pedal assist simple. A suspension fork, all-terrain capable tires, and sloping top tube with low standover height specifically developed for women turns Amiti E+ into a comfortable adventure ride. WHY WE LOVE IT Set your sights farther and fit more awesome in your day with the motor-assisted Amiti E+. Using Liv's 3F Design Philosophy, Amiti E+ was designed for a woman's comfort and taste. The bike provides a lower standover height, making getting on and off the bike easy. Amiti E+ is equipped with a solid braking system for loyal traction, plus fenders and tubeless tires for optimal comfort and safety. The RideControl remote unit lets you check battery level, turn on the front headlight, and comes with a Smart Assist button that kicks in an extra smooth and natural ride feel. Amiti E+ offers five levels of assistance for speed control, which adds 50%-350% of your power to your pedal stroke. This bike makes traveling through city streets and rough country roads a pure delight.
LET THE RELIABLE, POWER-ASSISTED PEDALING OF THE ROVE E+ LEAD YOU TO NEW DISCOVERIES. Accessibility Explore new places, new roads and new adventures with the 150 km* range of the reliable EnergyPak battery. The SyncDrive Core Motor delivers 50Nm of torque and has six speed control settings, offering up to 300% pedal assistance. *Actual range depends on several factors including weight, elevation, terrain and acceleration. Powered for Fun The reliable EnergyPak 400Wh side-release battery is beautifully integrated into a lightweight and durable ALUXX SL-Grade aluminum frame for a bike that zips along on longer adventures. Smooth Riding SyncDrive motor technology smooths out bumps along the ride, and RideControl One on the handlebar provides easy access to select pedal assist functions and view battery levels.